In this Internet Safety for Kids lesson, learn the Internet safety tips available to keep your kids safe online.
Minimizing risks at home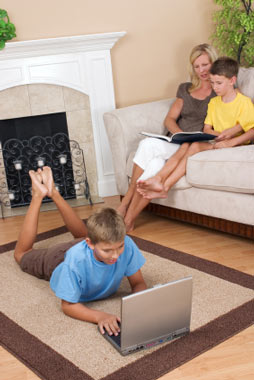 Keeping the computer in the living room to minimize risks
If you have a home computer your kids use, there are some extra precautions you can take to make it safer. Remember that your kids will probably use many other computers, and these precautions won't keep them safe when they're not at home. Also, keep in mind that these are merely suggestions; depending on your parenting style and your kids' ages, you may choose not to use all of them.
Keep the computer in the living room or in another common area. By putting the computer in a common area of the house, you can reduce the chance that they'll talk to strangers or visit inappropriate websites. For teens, you may choose to give them more freedom about where they use the computer (especially if they have their own computers).
Install antivirus software. Viruses and other malware are a risk for any computer (although Macs are slightly safer). To protect your computer, you can install antivirus software such as BitDefender or Norton.
Use a kid-friendly search engine. Regular search engines may return results with inappropriate content you don't want your kids to see. However, there are some search engines that are designed to only return kid-friendly results (although there is still the possibility of inappropriate results getting through). Examples include KidsClick!, KidTopia, and KidRex.org.
Use parental controls. Windows and Mac OS X allow you to add parental controls to user accounts. These include time limits, website restrictions, and controlling which applications can be opened. You can also buy parental control software like Net Nanny, which has versions for Windows and Mac.

Parental controls in Windows 7