If you're new to an iPad getting started can feel intimidating. This free lesson will help put you at ease.
Charging the battery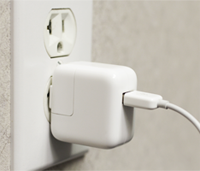 The battery on your device should last for about 10 hours of normal use. When it's low, you'll need to charge it. There are two ways to charge the battery:
Connect your iPad to your computer with the included USB cable. Just plug one end into the dock connector, then the other into any USB port.
Charge your iPad anywhere with the included power adapter. To use it, plug the adapter into a power outlet, then connect the iPad using the USB cable.
Care and protection
Other accessories, like a case or cover for your iPad, are sold separately. If you don't have one yet, now's the time to look for something that fits your style, budget, and personal needs. The Apple Store has several options to choose from, including the popular Smart Cover. The Smart Cover was designed specifically for the iPad and can also be used as a stand.
If you're not interested in the Smart Cover (or any of the cases in the Apple Store), don't worry—you can find hundreds of alternatives if you search online or in retail stores. No matter what you choose, a good case or cover will go a long way toward protecting your device so you can enjoy it for years to come.
You should also make sure you have a soft, lint-free cloth for wiping fingerprints and smudges off the screen. Never use household cleaners, alcohol, or other abrasives.