Learn all about iPad security and make sure your iPad settings are where they should be in this free lesson.
Privacy
Third-party apps sometimes request access to your personal information. For example, an app might request access to your Twitter account to make it easier for you to share things with your friends. Another app might request access to Contacts to help you connect with the people you know.
Apps will ask for permission before accessing your information for the first time. However, you can always manage these settings under Privacy.
To manage your privacy settings:
Tap the Settings icon on your Home screen.
Tap Privacy in the left pane.

Tap an item to view which apps (if any) have requested access to the information.

Turn controls on or off to enable or disable access for certain apps.
Location Services
Location Services is an optional setting that uses Wi-Fi and/or your cellular signal to determine your current location. Location data can be extremely useful for a variety of apps. For example, the Maps app can use this information to give you directions from your current location, while the Weather app can give you a local forecast.
Location data can also be used in ways you might not expect. For example, the Camera app can use it to tag photos and videos with their exact location (known as geotagging). If you then post a photo publicly online, you're also sharing the location data for that photo.
While it can be useful, some people may not feel comfortable sharing their location data in all of these situations. Fortunately, you can turn off Location Services for individual apps or for all of your apps. To modify these options, go to your Privacy settings, then tap Location Services.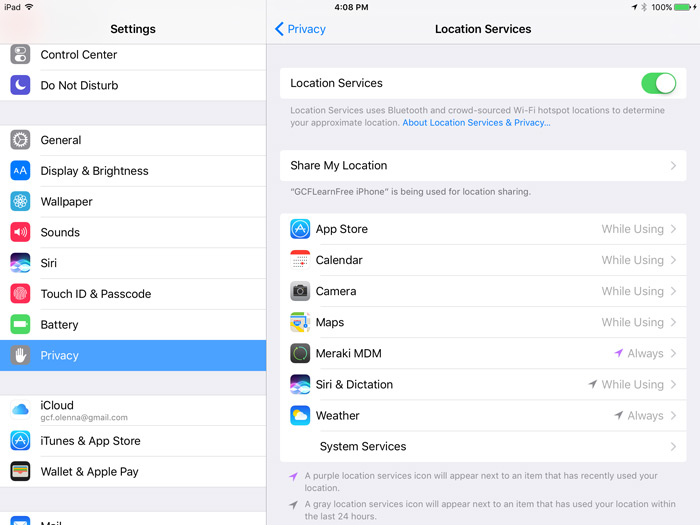 To limit ad tracking:
Some third-party apps may use information from your iPad to serve you targeted advertisements based on your interests. These interests are based on the way you use your iPad, including your browsing history and installed apps. If you'd prefer not to receive targeted advertisements, you can limit ad tracking. This feature won't limit the number of ads you receive; it will simply stop third-party apps from using your personal information.
From Privacy, tap Advertising.

Turn the control on to limit ad tracking.