Get tips for using iOS effectively in this free iOS tips lesson. This will help you get the most out of your operating system.
Sharing
Sharing is also a big part of using the iPad. In fact, to help you stay connected, Apple has created a feature called the Share button that can be found in many different apps.
Just tap the Share button whenever you see it, and you'll gain access to a variety of options. You can share photos, videos, and much more across a variety of networks—including email, instant messaging, Twitter, and Facebook. You can even print photos or documents if you have a wireless printer in your home or office.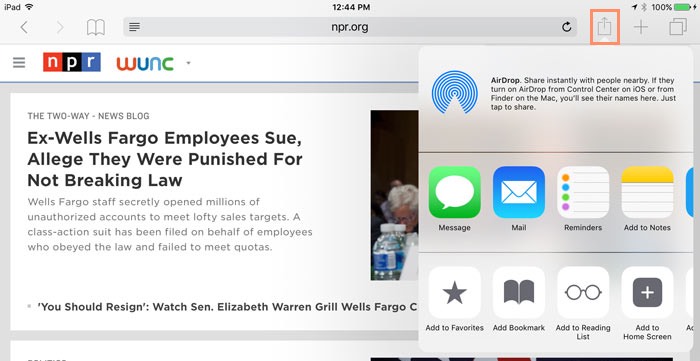 Syncing
Syncing makes it easy to keep things up to date between your computer, your iPad, and your other mobile devices. This way, you'll always have access to important files on any device whenever you need them. There are two ways to sync an iPad:
Syncing with iTunes: You can connect your iPad to your computer using the included USB cable. You can then use iTunes to sync music, photos, and files from your computer to your iPad. You'll also be able to back up your iPad's files on your computer.
Syncing with iCloud: You can sync wirelessly to iCloud, which will work in the background to sync important information between your mobile devices. For example, you could take a photo on your iPad, then view it instantly on your laptop. Or you could create a to-do list on your work computer, then keep up with it on your iPad.
We'll take a closer look at syncing in our lesson on Syncing Your iPad.