Learn how to change your iPad wallpaper and use iPad sound for notifications and other tasks in this free lesson.
Wallpaper and sounds
As you learned in our lesson on Security and General Settings, there are many ways to customize your iPad. If you want to make your iPad more personal, you might want to choose your own wallpaper or change the sound effects.
Remember, you can access Settings by tapping the icon on the Home screen. In this lesson, we will focus on:
Wallpapers: From here, you can customize the iPad's wallpaper for your background and lock screen.
Display & Brightness: From here, you can customize the iPad's display settings and brightness.
Sounds: From here, you can customize the iPad's sounds.
Wallpaper
To change your wallpaper:
To make your iPad more personal, you can add your own background wallpaper.
Tap the Settings icon on your Home screen.
Tap Wallpaper in the left pane.
Tap Choose a New Wallpaper.

Tap Dynamic or Stills to view the built-in wallpapers that came with your iPad, or choose a picture on your device from the albums below. In our example, we'll tap Stills.

Tap an image to open a full-screen preview.

Use the menu bar to apply the wallpaper to your Lock screen, Home screen, or Both. To exit the preview without changing your wallpaper, tap Cancel.
Setting the wallpaper from the Photos app
If you're already looking at pictures in the Photos app, you can set any picture as the wallpaper without opening Settings. Simply select the picture, tap the Share button in the bottom-left corner, then select Use as Wallpaper.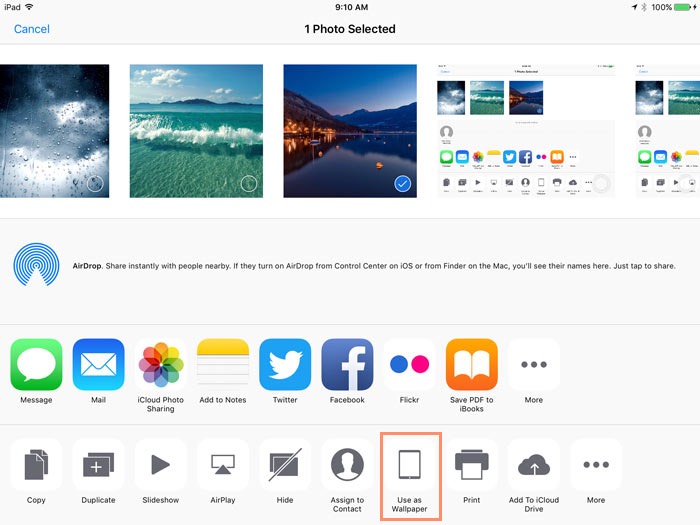 Display & Brightness

If you're having difficulty viewing your iPad's screen, you may want to adjust the screen brightness. Decreasing the screen brightness will also help to save battery life. From the Display & Brightness settings, drag the slider to increase or decrease the screen brightness. You can also change this at any time by swiping up from the bottom of the screen to access the Control Center.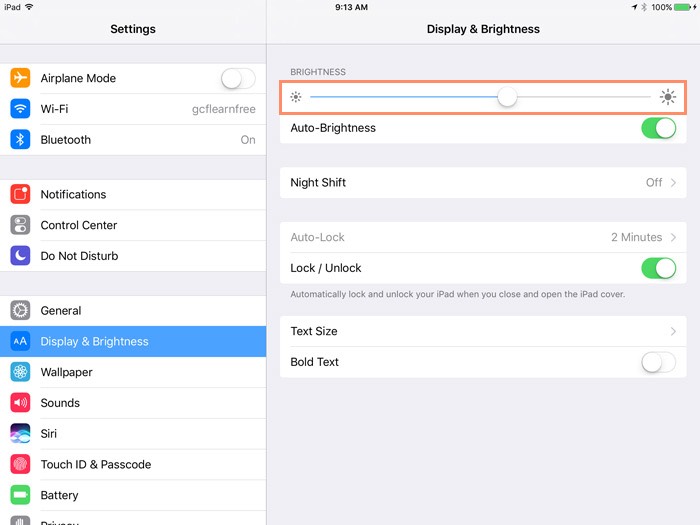 Auto-Brightness automatically adjusts the brightness for current light conditions using a built-in light sensor. Just tap the Auto-Brightness control to turn this feature on or off.
Sounds
The Sounds settings allow you to change the sound effects for different alerts (like a new email or calendar event), as well as your ringtone for the FaceTime app. You can also adjust the volume for these sounds and enable or disable system sound effects like keyboard clicks and lock sounds.
To edit sound settings:
Tap the Settings icon on your Home screen.
Tap Sounds in the left pane.
Customize the sound settings as desired. For example, you can choose a new ringtone for the FaceTime app or a new alert tone for email messages. Take some time to test different sounds and settings to find the ones you like best.
You can also use your iPad's side switch to mute or unmute all sounds.