Before filling out a job application references should be contacted to ensure they can vouch for you. Learn tips in this free lesson.
Providing references to employers
Because your list contains your references' personal information, it's common practice NOT to give your references to potential employers unless you are asked. Employers may ask for your references during or after an interview, or when you are completing an application.
References available upon request is a phrase that's commonly used at the bottom of a resume. Because hiring managers expect that you have references, you can omit this phrase if you wish.
Creating a list
Once you've secured at least three references (or up to six for higher-level jobs), prepare a list of names and contact information you can give to potential employers. For help, review the tips below.
Use a word processing program such as Microsoft Word or Google Docs. Presenting your references in a neatly typed list will make a much better impression than writing them by hand.
Use a conservative font. For a consistent, professional look, use the same font that's on your resume. Don't use clip art, pictures, or other decoration. Unless you're applying for a job in a creative field, it's considered unprofessional.
Include your personal information, including your name, address, phone number, and email address. This way, a hiring manager will know the references belong to you if they become separated from your job application or resume.
List your references in order. In other words, list them in the order you want potential employers to contact them. If you have no preference, list them alphabetically.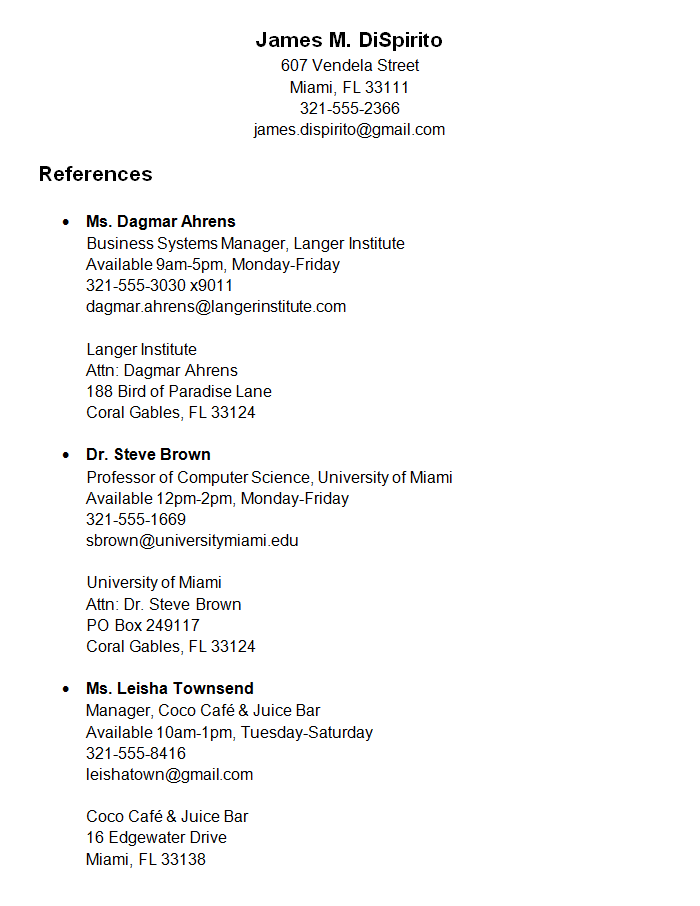 Resources
To learn more about securing and providing professional references, check out the resources below.