If you're new to OS X Lion getting started is simple. Just follow the instructions provided in this free lesson.
The menu bar
The menu bar is located at the top of the screen. It is always visible except for when you're running a full-screen app. The options on the menu bar will vary depending on which app you're currently using. The name of the app will appear in bold near the left side of the menu bar, and the options to the right of the name allow you to perform various tasks within the app.

The menu bar, while using iPhoto
The Apple icon
On the left side of the menu bar is the Apple icon, which you can use to access your System Preferences, recent documents, and more. You'll also use the Apple icon to shut down or restart your computer.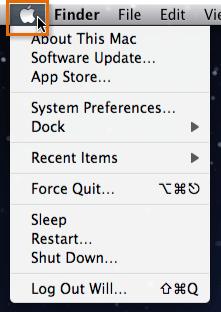 The Apple icon
Spotlight
On the right side of the menu bar is a magnifying glass icon. When you click it, it will open Spotlight, a tool you can use to search your computer. If you're having trouble finding a file, app, or folder, you can just type the name in Spotlight and it will show you a list of results.
Using Spotlight to search for an app