When working in OS X Mountain Lion communication apps are available. Learn how to communicate using contacts, mail, messages, and more.
More communication apps
FaceTime

FaceTime allows you to make free video calls to other Apple devices. All the other person needs is a device of his or her own (iPad, iPhone, iPod Touch, and most Mac computers are compatible). If you have an iPad or iPhone, you can even take advantage of your device's front and back camera. For example, you could use the front camera to talk face to face, then switch to the back camera to show what's going on around you.
If you haven't already added your friends and family to your contacts, now's a good time to do that. You can't call people in FaceTime just by dialing their numbers or entering their email addresses. They have to be part of your contacts list first.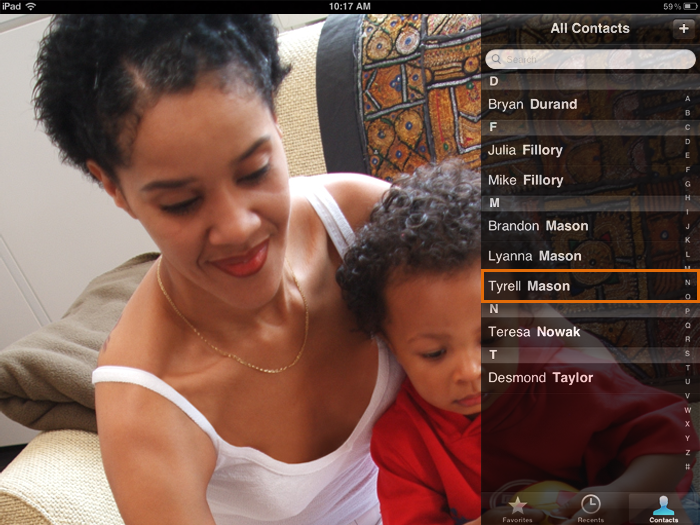 The FaceTime app
If you have the newest version of the iPad or iPhone, it's helpful to know that you can make FaceTime calls over your cellular network if Wi-Fi isn't available. However, to avoid exceeding your data allowance we recommend using FaceTime over Wi-Fi whenever possible.
Find My Friends

Find My Friends can be downloaded for free in the App Store. Developed by Apple, this app is designed to work closely with Contacts, Maps, and all the information synced in your iCloud account. It can help you keep track of friends and family, pinpoint their current location, and more. You can even receive alerts about their whereabouts, like when they leave or arrive at a specific location.
Find My Friends only works if your friends use the app too. If you don't want your location to be visible, you can always hide it temporarily or turn it off permanently.
Find My Friends is available for the iPad, iPhone, and iPod Touch only.
Twitter and Facebook
Twitter and Facebook have their own mobile apps for the iPad, iPhone, and iPod Touch. You don't even have to go looking for them in the App Store—instead, you'll find everything you need under your device's Settings. Just navigate to each app, then click Install to get started. Once the installation is finished, the app will walk you through the process of setting it up.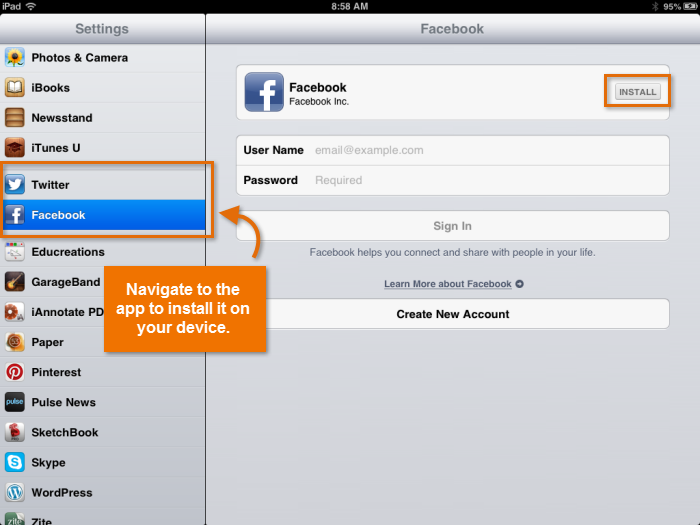 Installing Twitter and Facebook
Both Twitter and Facebook are designed to integrate with Contacts so you can keep in touch with the people you know even more easily. This means your device may download additional data from your social networking accounts, including more contact information for your friends or their profile pictures. The results will vary depending on your settings.
In the App Store

Other mobile apps from third-party developers (i.e., apps that are supported by Apple but not developed by Apple) can be downloaded in the App Store. There, you'll find a variety of tools that can help you communicate with friends and family and keep up with your social networks. These include:
Remember, the App Store is filled with thousands of choices. If you have something particular in mind (maybe an app for your favorite service), just search for it. There's a good chance you'll find what you're looking for.