Are you new to OS X Mountain Lion? If so, learn about exploring the operating system in this free lesson.
Syncing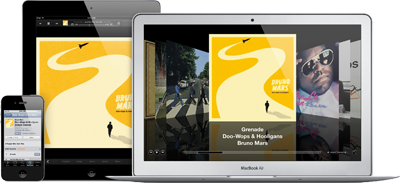 Did you know you can sync your computer with your other devices if you have an iPad, iPhone, or iPod Touch?
If you've never heard of syncing before, that's OK. It's designed specifically so you don't have to think about it once you set it up (or do anything special to maintain it). It just happens in the background.
Syncing is what links your Mac to your other Apple devices—and your other devices to each other—so you can access the same content anytime, anywhere. For instance, you could take a photo on your iPad and view it instantly on your laptop. You could create a to-do list on your work computer, then keep up with it on your iPad, iPhone, or iPod Touch.
Are you starting to see how useful syncing can be? It's a big part of using OS X Mountain Lion if you have more than one Apple device, so it's important that you understand what it means (even if you're not sure how it works yet!). Some content syncs automatically once you set up the applications on your computer. Other types of content will need to be enabled in iCloud.
What is iCloud?

iCloud is a free service from Apple that does many different things. It allows you to store your content "in the cloud" instead of on your computer (which can save you a ton of storage space). But some of its most popular features have to do with syncing.
Imagine being able to start something on your Mac, then pick it back up immediately on a different device. That's the benefit of syncing with iCloud. It aims to connect all of your files, information, and other types of content so you never lose access to the things you love. And it's not just for OS X Mountain Lion; it's for your other Apple devices as well.
We'll take a closer look at iCloud in the Syncing with iCloud lesson.