Are you new to OS X Mountain Lion? If so, learn about exploring the operating system in this free lesson.
Introduction to apps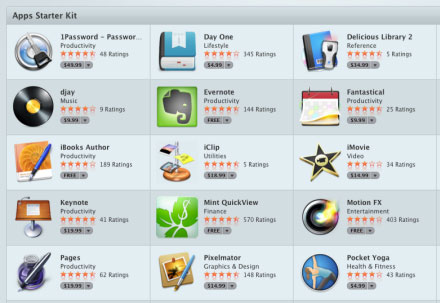 The Mac App Store
Whenever you want to perform a specific task with a computer, you'll use an application (also known as an app). There are many different types of apps, including web browsers, games, and word processors.
OS X Mountain Lion comes with a wide range of built-in apps you can access as soon as you turn on your computer. They're a great place to start for new users because there's nothing to download or install.
Many of these apps are ready to use right out of the box, like Safari (a web browser) and Photo Booth. Others require a little more setup, like Mail, Contacts, and Calendar.
To get the most out of your Mac, you'll probably want to download some additional apps from the Mac App Store. The App Store was introduced in Snow Leopard. You can access the App Store from the Dock or from Launchpad.

Opening the App Store from the Dock
The App Store is also important for another reason: If you are upgrading from Snow Leopard or Lion, you'll need to use the App Store to download Mountain Lion. Unlike previous versions of OS X, Mountain Lion is not available on a CD or DVD. In the next lesson, we'll talk more about how to upgrade to Mountain Lion, including software and hardware requirements.
Using the App Store

The App Store gives you access to thousands of apps aside from the ones you already have. You'll find everything from games to entertainment to productivity tools—even apps that can help you with common tasks like studying for an exam, cooking dinner, or keeping track of travel details. In short, if you have something in mind, there's a good chance you'll find an app for it in the App Store.
A lot of the content in the App Store costs money; however, you'll still find thousands of apps and other resources you can download for free, or for as little as $0.99. If you're not sure which apps to try first, the App Store can help by giving you recommendations or showing you what's popular with other iPad users.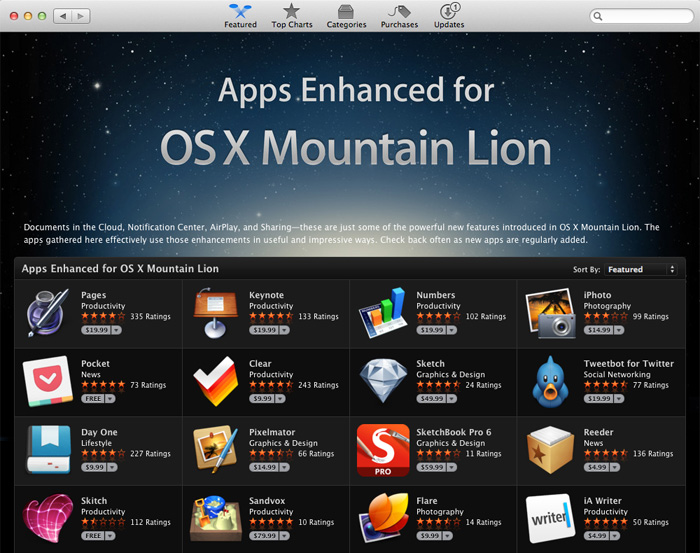 Apps for OS X Mountain Lion
Apps Starter Kit
Still not sure where to begin? The Apps Starter Kit from Apple might be able to help. This resource is designed to show you some of the most essential apps for new Mac users. To access it, open the App Store. Then look for Quick Links on the right and click Apps Starter Kit. (You might want to check out some of the other links too.)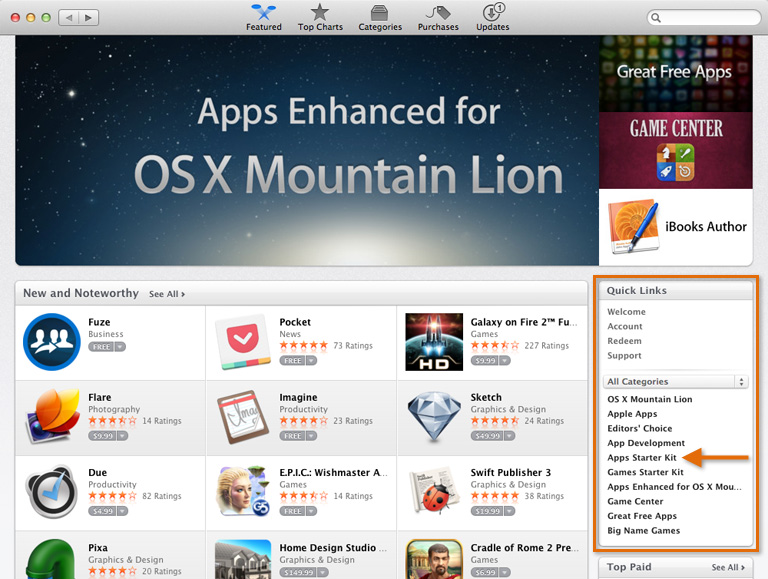 Quick Links in the App Store
Inside, you'll find a list of apps. Some are free, but most are paid. To learn more about an app, click the one you're interested in. You can download them all or just a few.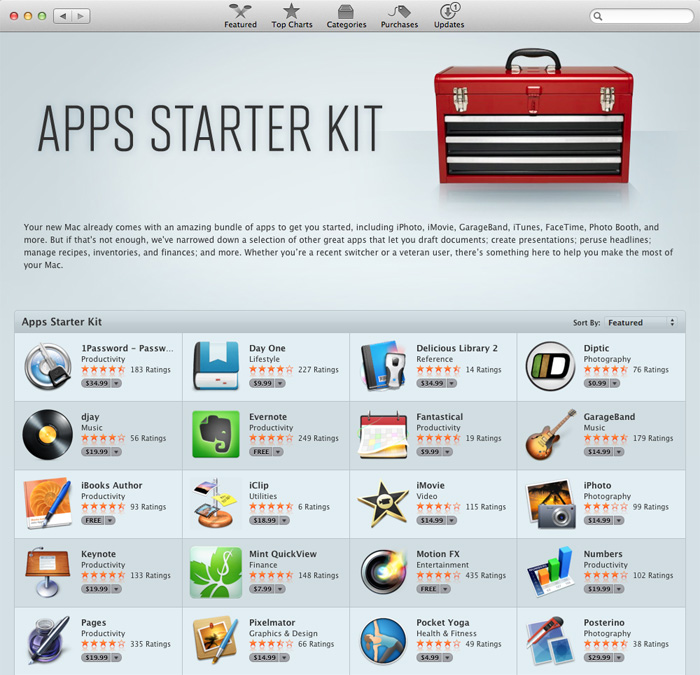 Apps Starter Kit