If you're using OS X Mountain Lion iTunes is available for syncing. Learn about that and other OS X Mountain Lion entertainment features here.
iTunes

The desktop version of iTunes comes pre-installed on every Mac and is also available for Windows. You can use it to play media (including music, TV shows, movies, podcasts, and more), and also to download content from the iTunes Store. You can even sync the app across devices so you can access your media library anytime.
Most of what's available in the iTunes Store costs money, but you'll still find thousands of items that can be downloaded for free. iTunes is also pretty accommodating when it comes to certain types of paid content. For example, you can purchase a single song instead of an entire album, or rent a movie instead of buying it.
iTunes is also compatible with AirPlay and Apple TV, two products that when used together let you stream media from one device to another. To learn more, visit Apple's introduction to AirPlay and Apple TV, or go to page 8 of this lesson.
Click the arrows to view iTunes on each device.
As you may have gathered, the mobile version of iTunes is a bit different from the desktop version.
Have more than one Apple device?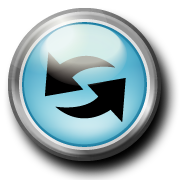 Enable automatic downloads to sync your music and e-book purchases across devices. To find out if you already have it enabled, visit your device's iTunes Store settings. Remember, you have to configure each device separately.
TV shows, movies, and music videos can't be synced automatically, but you can redownload them to any of your devices using iTunes in the Cloud. Just look for your purchases in the appropriate area (for example, TV Shows or Movies), and you can download them again. This option is available as long as you use the same Apple ID on each device.
You can also sign up for iTunes Match for $24.99 per year, which allows you to use iTunes in the Cloud with music you didn't buy in the iTunes store. For more information, go to the iTunes Match page.
Some features may not be available in your country. To learn more, visit iTunes in the Cloud and iTunes Match Availability.