If you're using OS X Mountain Lion iTunes is available for syncing. Learn about that and other OS X Mountain Lion entertainment features here.
More apps for media and entertainment
Game Center

Game Center is a built-in app that lets you play games on your device, with a unique social networking twist. In other words, you can play by yourself, but the real benefit comes from interacting or competing with other players. For example, you can upload your contacts list to compare scores with your friends, or let Game Center match you with other players based on your skill level.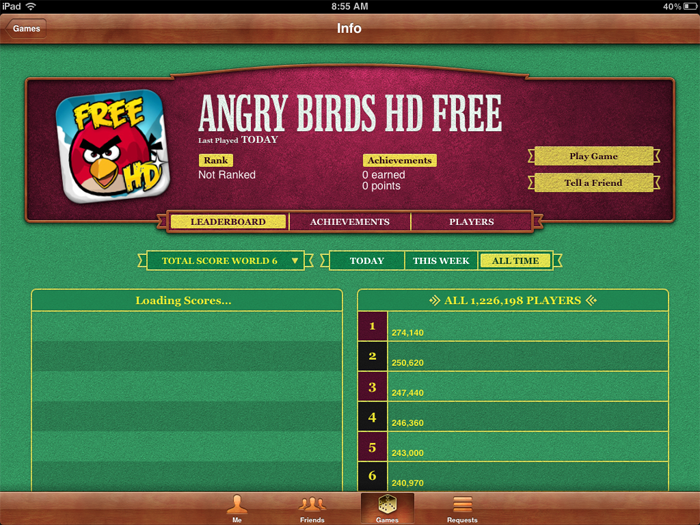 The Game Center app
Game Center is available for the iPad, iPhone, iPod Touch, and Mac (OS X Mountain Lion only).
GarageBand

GarageBand is a great app for musicians and beginners alike. You can use it to write music and record songs on your computer. You can even plug in your own instrument and compose or record music in real time. All you need is an electric guitar or a keyboard with a USB connection. If you don't have an instrument, you can use the on-screen controls.
iMovie

iMovie is a built-in app that lets you organize, watch, and edit your own video projects. With tons of features that are fun and easy to use, you can create high-quality videos (including home movies, slideshows, and short films), regardless of your skill level. iMovie even comes with templates that can help you incorporate Hollywood-style graphics, transitions, and special effects.
Mobile apps for your iTunes content
There are several other mobile apps (in addition to Music and Videos) you can use to access your iTunes content across devices. As you can see, each app is designed for something specific. All of these apps can be downloaded for free in the App Store.
The iBooks app gives you access to more than 20,000 books, basically turning your mobile device into an e-reader. There's something for everyone, from novels to cookbooks to illustrated children's books—even enhanced titles that come with audio or video. You can also browse by title, author, genre, and current bestseller lists.

The iTunes U mobile app allows you to watch free lecture videos from various colleges, universities, and businesses. It works a lot like a podcast: If you subscribe to a specific course, the iTunes U app will download more and more lectures as you make your way through the course.

The Podcasts mobile app can be used to download and listen to podcasts on your mobile device. You can download one episode at a time or subscribe to make sure new episodes are downloaded automatically.