Learn about adding and managing Microsoft account contacts in this free lesson.
Adding contacts and Messenger friends
Contacts can help you get the most out of your Microsoft account. Once you've added people to your contacts, you can access their contact information from every Microsoft service. You'll use the same contact list to send emails in Outlook and share files in OneDrive. You can also add your contacts to your Messenger friends list, allowing you to chat with your contacts online.
You can access your contacts from the People page. To navigate to the People page, click the drop-down arrow in the toolbar and select People.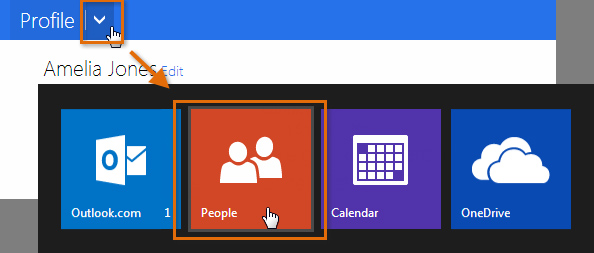 Navigating to your contacts

There are two ways to add contacts:
Entering information for each of your contacts individually
Copying, or importing, existing lists of contacts from other accounts, like Gmail, Facebook, Twitter, and LinkedIn (if you already have a lot of contacts saved with another account, this method can save you a lot of time and effort)
To import contacts:
Navigate to the People page.
Locate and select the Manage button, then choose Add people from the drop-down menu.




Importing contacts

Select the service where your contacts are stored.




Choosing a service

A dialog box will appear with importing options and permissions. This page will vary depending on which service you chose. Follow the instructions to give Microsoft permission to access the contact information from your account.

Importing contacts from a Google account

Your contacts will be imported.

Imported contacts
To add a new contact:
Navigate to the People page.
Locate and select the New button.

Adding a new contact

Enter the contact information. At the very least, you should enter a first and last name, as well as an email address. However, you can also enter other information, like phone numbers, alternate email addresses, date of birth, and work information.
When you are finished filling out the contact information, click Save.

Adding contact information

The contact will be added.
To add a Messenger friend:
If you want to be able to use Messenger to chat with your contacts directly from your Microsoft account, you'll first have to add them as Messenger friends.
Navigate to the People page.
Locate and select the Manage button, then select Invite on Messenger from the drop-down menu.

Selecting a contact to add as a friend

Enter the email address of the person you wish to add as a Messenger friend, then click Next.




Adding the contact as a friend

A confirmation screen will appear. Click Invite to continue.




Sending a friend invitation

A Messenger friend invitation will be sent. If your contact accepts, you will be added to each other's Messenger chat lists.

If you import contacts from Facebook, they will be added to your Messenger friends list automatically.