Learn about adding and managing Microsoft account contacts in this free lesson.
Managing your contacts
Once you've added a lot of contacts, your contact list can start to look a little cluttered. Fortunately, Microsoft makes it easy to manage and organize your contacts.
To edit a contact's information:
Navigate to the People page.
Select the contact you wish to edit in the All Contacts List on the left side of the screen. If necessary, use the search bar to find the desired contact.
Locate and select the Edit button.




Selecting a contact to edit

Modify the contact information as desired, then click Save. The contact will be edited.

Modifying the contact information
To sort contacts into groups:
If you have a lot of contacts, you may find it helpful to sort your contacts into groups.
Navigate to the People page.
Select the contacts you wish to place into a group, then locate and select the Groups button.




Adding contacts to a group

The Groups dialog box will appear. You can choose to either:


Sort your contacts into an existing group
Create a new group for your contacts (we'll chose this option in our example)

Click New group.

Creating a new category

Enter the name of the new group, then click Apply.

Adding contacts to the new category

The group will be created.
To view only the contacts in that group, click the drop-down arrow next to All, then select the group from the drop-down menu.




Selecting new group
To create a group without contacts, remove a contact from a group, or delete a group completely, locate and select the Manage button, then click Manage groups.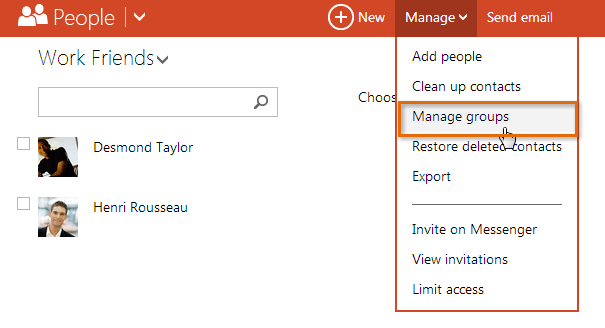 Managing groups