Get the Microsoft account info you need to create and maintain an account so you can use services like Skype, Xbox, and OneDrive.
Microsoft account features
Once you have a Microsoft account, you can access all of Microsoft's online services. This includes several core services and tools, like OneDrive (previously called SkyDrive), Office Online, and Outlook.com.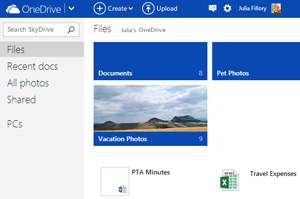 OneDrive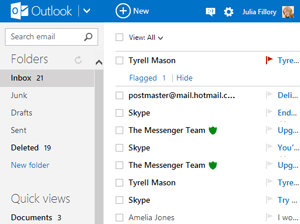 Outlook.com
OneDrive and Office Online
OneDrive is a cloud-based storage system you can use as your own personal online hard drive, with 7GB of free space. OneDrive is also integrated with Office Online, a free web-based version of popular Microsoft Office programs you can use to create basic Word documents, Excel workbooks, PowerPoint presentations, and more.
Outlook.com, Calendar, and Messenger
A free email service, Outlook.com makes it easy to send and receive email from anywhere. From there, you'll also be able to use Microsoft's other online services, including Calendar, which allows you to schedule appointments; and Messenger, which allows you to send instant messages to your contacts.
Windows Essentials
This is a suite of desktop applications you can download to your computer. Popular programs include the desktop version of OneDrive, which makes it easy to back up files from your computer; Family Safety, which lets you set parental controls for specific users; Movie Maker; and Photo Gallery. You don't necessarily need a Microsoft account to use these programs.
Visit the Windows Essentials page to download and install Windows Essentials.