Learn about Microsoft account privacy and Microsoft account security in this free lesson.
Account security
In addition to privacy, you should consider account security. A secure account is one that is difficult for someone else to access but easy for you to access, even if you've lost your password. You can keep your account secure by changing your password frequently and setting up password recovery information.
To change your password:
Click the profile icon, then select Account settings from the drop-down menu. The account settings page will appear.
Locate the Password and security info group, then select Change password.

Clicking Change password


Enter your current password.
Enter your new password.
Type your new password again.
Optional: You can check the box next to Make me change my password every 72 days. Microsoft will remind you when it is time to change your password.
Click Save. Your password will be changed.

Changing your password
Setting password recovery information
If you lose access to your Microsoft account, having password recovery information can help you sign in again. When you signed up for your Microsoft account, you were required to provide a phone number or an alternate email address and answer a security question. Because it's possible to lose access to your alternate email address or forget your security question, we recommend setting additional password recovery information as well.
To set additional password recovery information, locate and select Edit security info from the account settings page, then select the various recovery methods you wish to add. Click Save to apply your changes.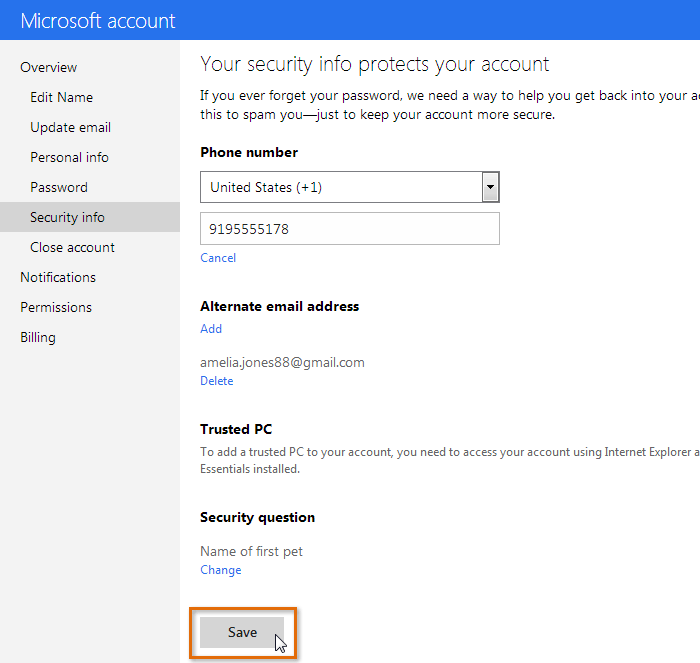 Adding a mobile phone for added account security