Learn how to manage money and get managing money tips in this free lesson.
Changing the way you spend money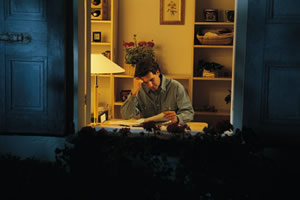 When assessing how you manage your money, you might want to change your spending and saving habits. Being able to better manage your money will help you prepare for the future.
Bad money management habits can sometimes be difficult to break. To tackle an undesirable habit, consider the following.
What do I get out of it?
If you spend a lot of money but save just a little, what do you get out of it? You get to enjoy stuff, whether it's one more pair of black shoes to add to the five pairs you already own or a new big-screen TV.
What's the negative?
If you go on a shopping spree and don't pay your electric bill, you gain temporary stuff but may lose an important service. If you don't save money, what could happen if an emergency arises? If you look at it this way, you may realize that you're not making a good choice.
Think before your spend.
Each time you spend money, you are making a choice. Your choices should reflect your values and financial goals. Before spending, ask yourself, "Do I need it?", "Can I afford it?", and "What is this purchase really costing me?"
Find a good habit.
If you want to get rid of a bad habit related to money management, replace it with a good habit. For example, instead of overspending on designer clothes, start setting aside money for a down payment on a house or other goal. You must truly want to get rid of the bad habit, and you must practice and work at it in order to change.