Learn your banking options and get free banking tips so you make the right choice when selecting a bank.
Banking fees
Banks profit, in part, from banking fees. For example, some banks charge a monthly fee for checking accounts containing less than a certain amount of money. Banks may also charge for bounced checks, paper banking statements, and using an ATM belonging to another bank. The average fee charged by a bank to a noncustomer using its automated teller machine (ATM) is $2.50 per transaction. The average fee consumers are sometimes charged by their own banks for using another bank's ATM is $1.57. You'll learn more about ATMs later in this tutorial.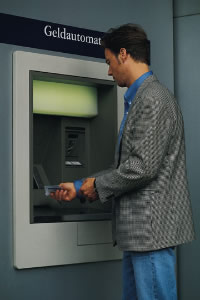 To avoid or reduce banking fees:
Keep track of the checks you write and the money in your account to avoid bouncing checks.
Consider overdraft protection. This would allow the bank to draw money out of another account—such as your savings account—to cover your checks if there are insufficient funds in your checking account. However, avoid overdraft protection via a credit account because you will have to pay interest.
Avoid using ATMs operated by other banks.
Use the cash-back option offered when you use your debit card at a grocery store or other location.
Research and compare your banking options to find the most convenient service.
Visit ATM in our Everyday Life project to practice using an ATM.