Need advice and help buying a car? This free lesson covers car buying tips and the things you should think about before making a purchase.
Assess and research before you buy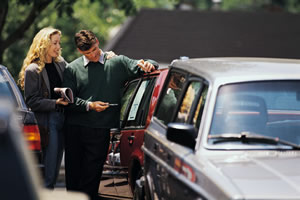 Conduct some research before deciding which car to buy. Consumer Reports' annual survey of new and used cars looks at value, performance, and safety. Also check out publications such as the Consumer Buying Guide and resources listed at the end of this lesson, and try to narrow down what you want in a vehicle.
Do you want to buy new or used? What size, year, and model are you looking for? Do you want a small car that gets good gas mileage and is inexpensive to operate? Is your goal to buy a large vehicle that rides comfortably and may provide better passenger protection in an accident? The National Highway Traffic Safety Administration (NHTSA) provides information on vehicle crash tests.
If you are considering a new car, compare the prices of different options, such as a manual vs. an automatic transmission, air conditioning, and antilock breaks. What do you need? New cars usually have a window sticker that provides details on the vehicle. What are the advantages and disadvantages? For example, a new car loses value the minute you drive it out of the dealership. Most new cars go down in value by 40 percent in their first three years. This is called depreciation.
Used cars are less expensive, but there are many unknowns. You probably won't be able to find out how it has been maintained. Often, a used car comes with no warranties, so you are responsible for any necessary repairs. The advantages of buying a used car are that you don't have to deal with depreciation, and it is less expensive to own than a new one. Check your local bank or visit the Kelley Blue Book website for more information. Dealers sell used cars, and you can also buy from a private owner.

Here's a Car Buying Comparison Sheet to help you conduct an assessment.