Buying a Car
Need advice and help buying a car? This free lesson covers car buying tips and the things you should think about before making a purchase.
How much does that car really cost?
As you consider buying a vehicle, be sure to take into account how much it will truly cost. We talked about your car budget earlier in this lesson. Now consider the price you will actually pay for a new or used car. If you are a savvy shopper, you may be able to reduce or avoid some of these costs.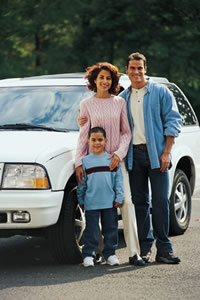 Interest rate and taxes
If you are getting a loan, consider the interest rate, and don't forget about the taxes you'll have to pay on your purchase.
Warranties
New cars generally come with a basic warranty stating that the manufacturer will cover specific repair costs. When the basic warranty expires—usually after three years or 36,000 miles—you can get an extended warranty. This can be expensive and isn't recommended in most cases. A dealer may also offer an additional written service contract for a fee. This agreement states that the dealer will repair or pay the costs for the repair of certain mechanical problems. Make sure you understand the terms, coverage, duration, and exclusions of a service contract before you sign it.
Extras
Some dealers may encourage you to purchase extras, such as rustproofing, extended warranties, paint sealant, fabric protection, and alarm systems. These optional services are often unneeded, overpriced, or can be acquired elsewhere at a lower cost.
Document preparation
It is not unreasonable for dealers to charge a fee for going to your state's Department of Motor Vehicles (DMV), but be aware that:

The advertised price of a motor vehicle must include all mandatory charges, including documentary preparation charges
The cost of preparing the title paperwork varies by state and can range from $5 to $100