Creating a Budget
Wondering how to make a budget so your money lasts longer? Read these tips for creating a budget and sticking to it.
A sample budget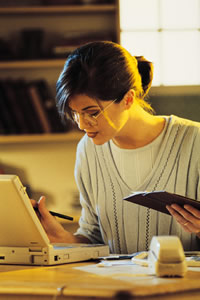 Let's look at how Vanessa creates her budget:
Vanessa's monthly paycheck earnings after taxes is $1,733. She also receives $400 per month in alimony from her ex-husband. She adds that to her monthly paycheck earnings to get a total monthly income of $2,133.
Vanessa wants to see how much she might save if she saves 10 percent of her monthly income, so she calculates: $2,133 times 0.10 to get $213.30. (If she saves this amount regularly, at the end of the year she can save more than $2,559). Instead, she decides to save $300 per month, or more than 3,600 per year.
Next, Vanessa adds up her fixed expenses. Rent is $800, her car payment is $250, cable TV costs $40, Internet access costs $35, and her car insurance averages $30 per month, for a total of $1,155.
She decides to set her variable expenses—which include utilities, phone, groceries, entertainment, and car maintenance—at $600 per month.
Vanessa subtracts her expenses, $2,055 from $2,133, to get $78. The $78 that remains is her discretionary cash. Because Vanessa will likely have some money left over after taking care of her expenses, she decides to put a bit more into savings.