Creating a Budget
Wondering how to make a budget so your money lasts longer? Read these tips for creating a budget and sticking to it.
Be a wise consumer
Being a wise consumer can help you stay within your budget. Here are some cost-cutting tips: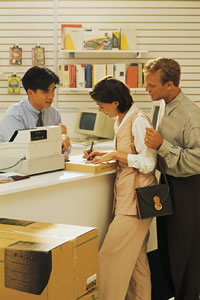 Look for ways to reduce spending. Consider a less expensive telephone plan, use coupons when you shop, and dine out less.
Search for the best buy. Sometimes it's better to spend time than money.
Be aware of where your money is going, and plan ahead to better handle unexpected expenses.
Look for free items. Borrow books, CDs, and videotapes from the library rather than buying or renting them. Exercise at home or use public exercise facilities instead of purchasing an expensive health club membership.
Consider shopping at thrift shops, consignments shops, and other places that sell used items.
Don't pay for services you can do yourself.
Say "no" to impulse shopping. Ask yourself if you really need an item or if there's something else you want more.
If you can, avoid using credit cards. Buying on credit ties up future income.
Watch out for money drainers—items you buy on a regular basis that can eat up a sizable chunk of your income. For example, 50 cents per day for a can of soda can add up to more than $125 in a year. Think about things you buy regularly that may be money drainers, such as snacks, magazines, or coffee, and consider saving that money for something else.