Credit
Get a better understanding of how credit cards work, including how to manage credit cards, in this free lesson.
What is credit?
Credit is a contractual agreement that allows you to receive a loan and pay it back later. There are three types of credit accounts: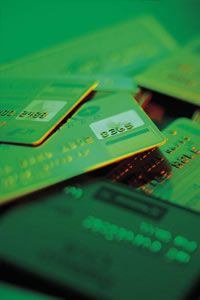 Credit cards
Banks, gas and oil companies, and department stores typically issue credit cards based on a revolving credit agreement. That means you can either pay the full amount due each month or make a minimum payment—an amount less than what you owe.
Charge cards
With charge cards and charge accounts, you promise to pay the balance in full each month. There are no limits and no interest payments on a charge card as long as you pay the balance each month, but you will be charged expensive interest fees if you do not pay on time.
Installment loans
Automobiles, furniture, and major appliances are often financed via an installment agreement. You agree to pay back a fixed amount in equal payments over a certain period of time, usually along with interest.