Use these checking account tips to better understand how to manage a checking account.
Deposit slips
A deposit slip is a written order to your bank instructing it to put funds into your account. You can use a deposit slip to put money such as cash, checks, and money orders into your account.
Be sure to endorse or sign any check that had been made payable to you before you deposit it. On the back of the check, there is a place for your endorsement, or signature.
Deposit slips vary from bank to bank. Here's an example: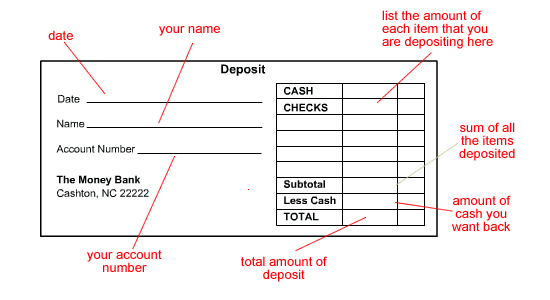 To fill out a deposit slip:
List the amount of money you want to deposit. Most slips have separate lines for cash and checks.
For example, add $30 (cash) and $450.55 (check).
Enter the subtotal. In this case, it's $470.55.
Enter any amount you want back. In this case, it's 0.
Enter the Total. In this case, it's $470.55.
Sign the deposit slip.
Take the slip and the money you want to deposit to a teller at your bank. You also can make deposits using an ATM if you have an ATM card. You'll learn about using an ATM later in this lesson.
Use your mouse to drag and drop the parts of the deposit slip below, or print out a printable deposit slip to practice filling it in by hand.
If you want to cash a check and not deposit it, remember to sign the back of the check.


Visit Deposit in our Everyday Life section to practice endorsing a check and filling out a deposit slip.