Planning for retirement? Retirement help is here, with these retirement planning tips offered in this free lesson.
Planning for retirement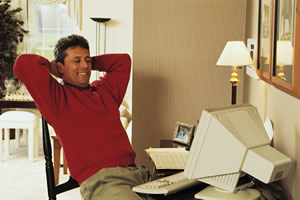 Most of us don't want to work forever. Therefore, preparing for retirement is an important part of financial planning.
Today's retirees fund their retirement using Social Security benefits, pension benefits, and personal savings and investments. How you decide to invest your money depends on your needs, philosophy, age, goals, and other factors. Take time to assess your retirement goals.
When do you want to retire? What do you want to do after you retire? Where do you want to live? How much money do you want to have available to you?
Take time to think about your retirement and how you want to prepare for it. Read about different investments to familiarize yourself with the terms used.
If you don't have a lot of money to make significant investments, consider starting with a savings account or company savings plan. Eventually, you might diversify your investment portfolio based on your retirement goals and attitude toward risk.
Any type of investment comes with a certain amount of risk. The higher the risk, the more you stand to gain financially; the lower the risk, the less you stand to gain. However, high risk does not guarantee high return on your money—it can mean significant losses if the economy is on a downturn.
If you are young and single, you can probably afford to take more risk than someone who is married with children. If you are in your 60s, you might look for safer investments.
With careful planning and smart investing, you can achieve financial security, independence, and enjoyment in your later years. Read about the seven tips for retirement planning on the next page, then use our Retirement Planning Worksheet to help you think about expenses and income now vs. what you might need in the future.