Learn tips for how to stay out of debt, as well as topics like debt consolidation, in this free lesson.
Credit counseling and debt consolidation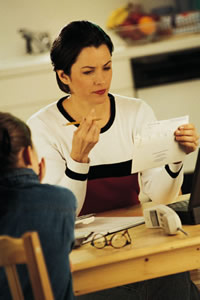 If you need help getting your debt under control, contact a credit counseling agency. Such agencies are designed to assist people who are dealing with difficult financial situations.
The Consumer Credit Counseling Service (CCCS), one of the oldest counseling services in the United States, is part of the National Foundation for Credit Counseling (NFCC). Local CCCS organizations are listed online under debt or financial counseling, or call the national number at (800) 388-2227 to speak with an counselor near you.
If you cannot find an office in your area, NFCC suggests asking the following questions to help you choose another qualified credit counseling service:
Is this agency a nonprofit organization?
How much will these services cost?
Are agency services confidential, and what types of services are offered?
Are the counselors and agency certified?
Are budget and credit education opportunities offered?
Will my funds be protected?
If you have a serious problem with incurring debt, consider joining Debtors Anonymous. This fellowship of men and women share their experiences, strengths, and hope with each other as they work to recover from compulsive indebtedness. The only requirement for membership is a desire to stop incurring unsecured debt; no dues or fees are required.