If you're confused by the menus Office 2000 has available, use this lesson for help.
Menus
Menu bars display commands. Some commands are the same in all Office 2000 applications, while others are different. Don't fret; you'll get the hang of it.
Word's menu bar:

To choose a command from a menu:
Click the menu name.
A menu—complete with a list of commands—appears.
Move the mouse pointer to a command and click on it.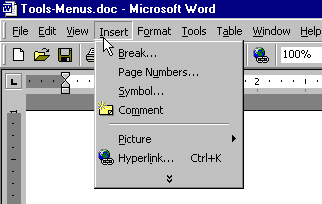 If there is a small black triangle next to a command, a cascading menu with additional options is available. Hover the mouse pointer over the command with the triangle, and the cascading menu will appear.