If you're confused by the menus Office XP has available, use this lesson for help.
Introduction
By the end of this lesson, you should be able to:
Discuss common menus featured in Office XP
Office XP is easy to use
If you're new to Office, it may seem almost impossible to learn all of the programs in the standard version of Office XP. Don't worry. Microsoft designed each of the Office XP programs to work together. In fact, there are certain features that are common to Word, Excel, PowerPoint, and Outlook, making each program easier to learn and use.
In our Windows XP course, you learn about many of the basic elements in an Office XP program window. In this lesson, you will learn about menus in Word, Excel, PowerPoint, and Outlook.
The menu bar
Each Office XP program features a menu bar. The menu bar is made up of many different menus. Each menu contains commands that enable you to work within the program.
Office XP programs have similar menus. Remember, the menus and menu commands differ slightly because each program performs a different function.
For example, Word 2002's menu bar is made up of the File, Edit, View, Insert, Format, Tools, Table, Window, and Help menus.



Viewing a menu and executing a command
To open a menu:
Click a menu name.
The menu, complete with a list of commands, appears.
With the menu open, drag the mouse pointer to a command and click it. As you drag your mouse pointer over the commands, each command is highlighted in light blue.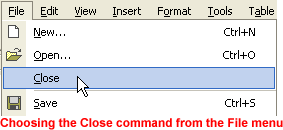 If there is a small black triangle next to a command, a cascading menu with additional options displays. Hover the mouse pointer over the command with the triangle, and the cascading menu will appear. Point and click to make a selection from the cascading menu.

Once you execute a command, the menu disappears. Depending on which command you selected, either the command is completed or you will be prompted to complete the next step in the command.
Changing the menu display
Office XP provides a few different ways to display menu commands:
Show the most commonly used commands followed by the full menu after a short delay.
Always show full menus.
Office XP programs will always show the most commonly used commands followed by the full menu after a short delay unless you indicate otherwise.
To change the way menu commands are displayed:
Choose ViewToolbarsCustomize from the menu bar.
A Customize dialog box appears.
Click the Options tab. Select one of the following check boxes:

Always show full menus
Show full menus after a short delay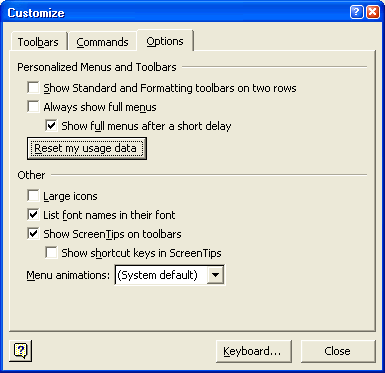 Clicking the Reset my usage data button will delete the record of the commands you've used and restore the default set of visible command to menus and toolbars.
Challenge!
Explore Word, Excel, PowerPoint, Access, and Outlook menu commands.