If you're new to OneDrive sharing is easier than ever. If you're new to Office Online sharing is an easy process too. Learn how here.
Sharing files and folders
When you use OneDrive to share a document with someone, you're actually giving that person access to the exact same file you're working on. This lets you and those you share with edit the same document without having to keep track of multiple versions.
There are two ways to share in OneDrive. You can share:
Individual files
Entire folders and all of the files they contain
Watch the video below to learn more about sharing documents and folders in OneDrive.

To share a file or folder:
Hover the mouse over the file or folder you want to share, then click the check box that appears.

Click the info pane button in the top-right corner of the screen to open the info pane (if it's not already visible).
The info pane will appear on the right side of the screen. Locate the Sharing group, then click Add People.

A pop-up window will appear. You can either click Get a link to generate a link of the file to send to people or click Email to send the file via email.

If you chose Email, enter the email addresses of the people you want to share with and add a note (if desired). When you're ready, click Share.

Your file or folder will be shared.
To edit the permissions of a shared file or folder, go back to the details pane and use the controls in the Sharing group.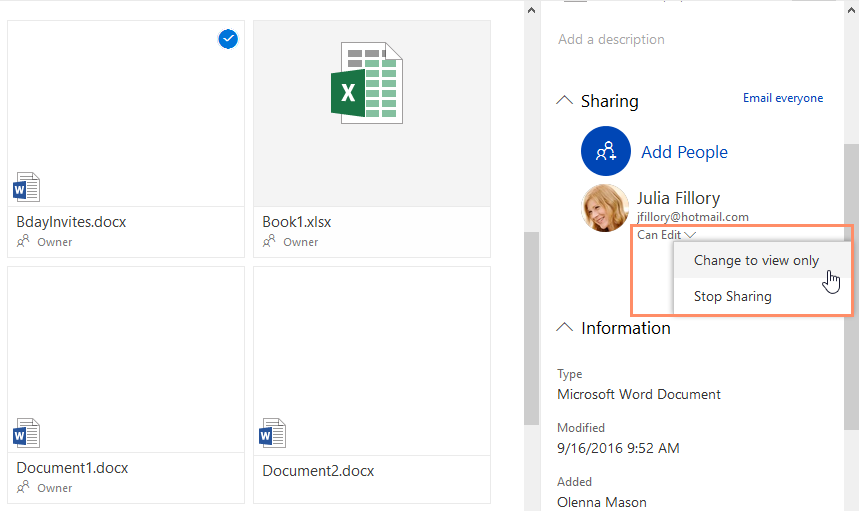 Remember, when you share a folder, all of the documents in that folder will be shared. You cannot set individual sharing settings for documents within a shared folder.