Upload, Sync, and Manage Files
When working with Office Online or OneDrive uploading and syncing are fairly simple processes. Learn how to do them here.
More file options
To access additional file management options, right-click the file.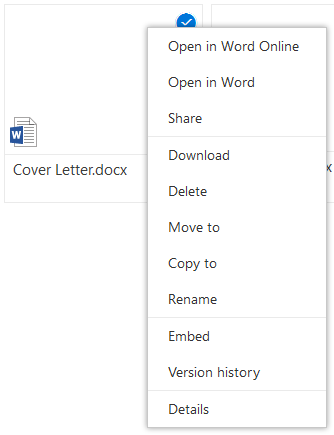 These options include:
Version history: Access and restore earlier saved versions of the file.
Download: Save a copy of the file to your computer. Downloaded documents will not be updated when you make changes to them on OneDrive.
Rename: Change the file's name.
Delete: Move the file to the Recycle Bin. You will need to empty the Recycle Bin to permanently delete a file.
To empty the Recycle Bin:
Locate and select the Recycle Bin in the left navigation menu.

The Recycle Bin will appear. Click the Empty recycle bin button.

The files will be permanently deleted from your OneDrive.