In Outlook 2010 getting started is simple. Follow this lesson to start using Outlook, and learn how to get Outlook help as well.
All about Outlook 2010
To use Outlook 2010, you'll navigate between several different views, including Mail, Contacts, Calendar, and Tasks. Because of these robust productivity features, Outlook is often used in many offices and workplaces to help employees communicate, manage their time, and organize meetings.
This tutorial will cover the basic features of Outlook 2010, including how to use the Mail, Contacts, and Calendar views. Many of Outlook's features are geared toward those who plan to use Outlook in the workplace, but much of this tutorial will still apply if you plan to use Outlook on your personal computer.
Getting to know the Outlook interface
If you're familiar with Outlook 2007 or 2003, you'll notice several changes to the 2010 interface. The main change is the addition of the Ribbon, which appears in all Office 2010 applications. Outlook 2010 also uses Backstage view, which we will cover later in this lesson.
Whether you're new to Outlook or familiar with previous versions, you should take some time to learn your way around the interface.
Click the buttons in the interactive below to become more familiar with the Outlook 2010 interface.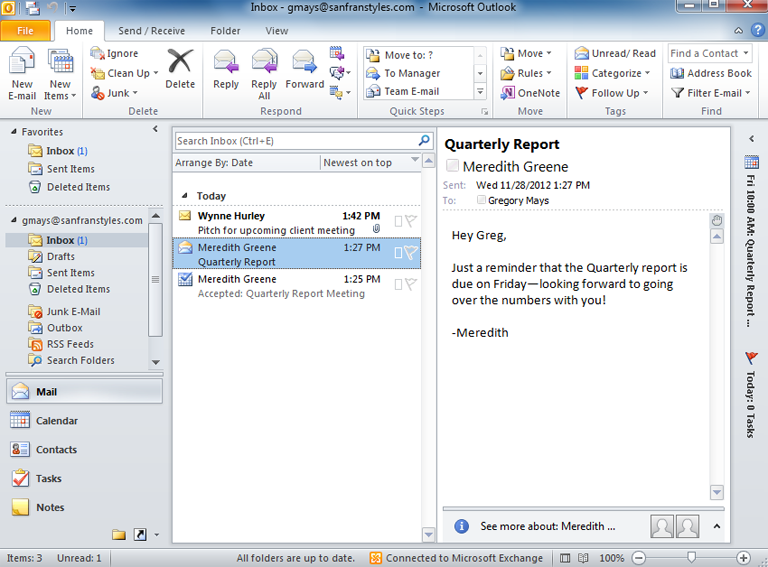 Ribbon
The Ribbon contains all the commands you will need to perform common actions in Outlook. It has multiple tabs, each with several groups of commands. The commands on the Ribbon will change depending on which view you select in Outlook.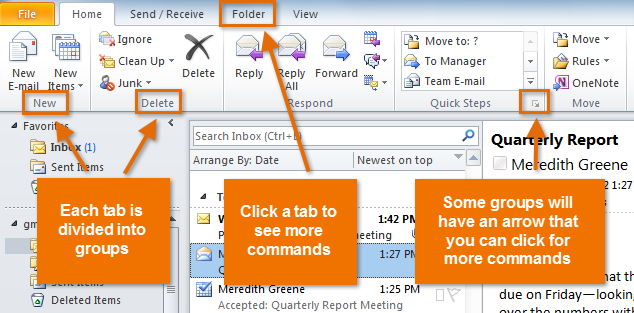 Quick Access Toolbar
The Quick Access Toolbar gives you access to common commands, no matter which tab you're using on the Ribbon. By default, it shows the Check Inbox and Undo commands.
To add more commands, click the drop-down arrow and then select the desired command(s) from the menu.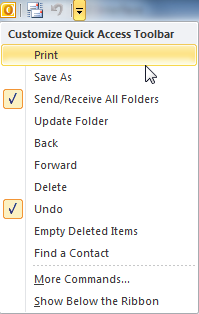 View Tabs
You will use the View tabs to switch between different views in Outlook, including Mail, Calendar, Contacts, Tasks, and Notes.
The Mail view is selected by default whenever you open Outlook.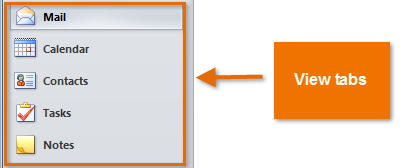 To-Do Bar
A summary of your daily calendar appointments and tasks will appear in the To-Do Bar.
Click the arrow to expand the To-Do Bar.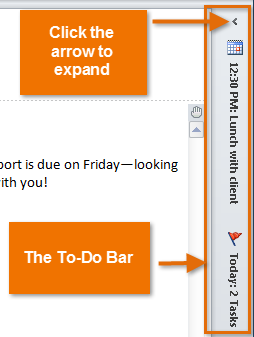 Navigation Pane
Every view uses the Navigation pane to display navigational options.
In this example, the navigation pane is displaying options for the Mail view.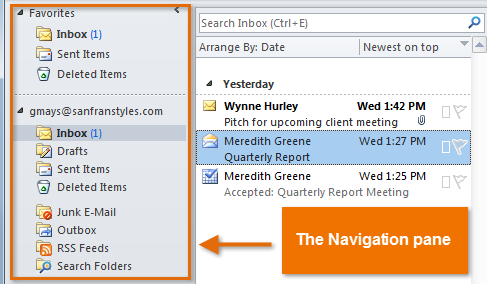 View Options
The View Option buttons allow you to switch between Normal View and Reading View. Reading View will minimize the Navigation pane, the Ribbon, and the To-Do Bar, making it easier to see the content in the View pane.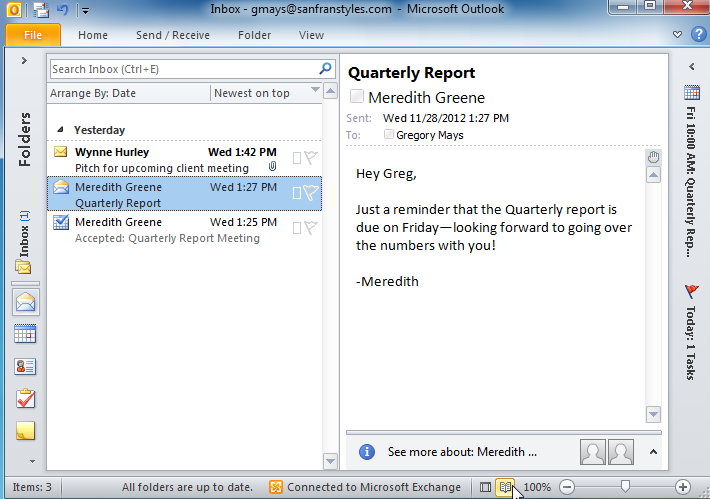 Zoom Slider
You can use the zoom slider to control the size of the content in the View pane.
View Pane
The content for the selected view will appear in the View pane.
In this example, the View pane is displaying content from the Mail view.