Keep your Outlook contacts organized so you can send and receive emails and schedule meetings with ease.
Contacts view
Outlook 2010 keeps all of your contacts organized in Contacts view. Once you've added contacts to Outlook, you'll use the same contact information to send emails, schedule meetings, and assign tasks. Keeping a detailed contacts list can be especially helpful in the workplace, as you may need to communicate with many different people every day.
The Contacts view interface
To access Contacts view, locate and select the Contacts View tab in the lower-left corner of the screen. Contacts view will appear.




Navigating to Contacts view
Click the buttons in the interactive below to become more familiar with the Contacts view interface.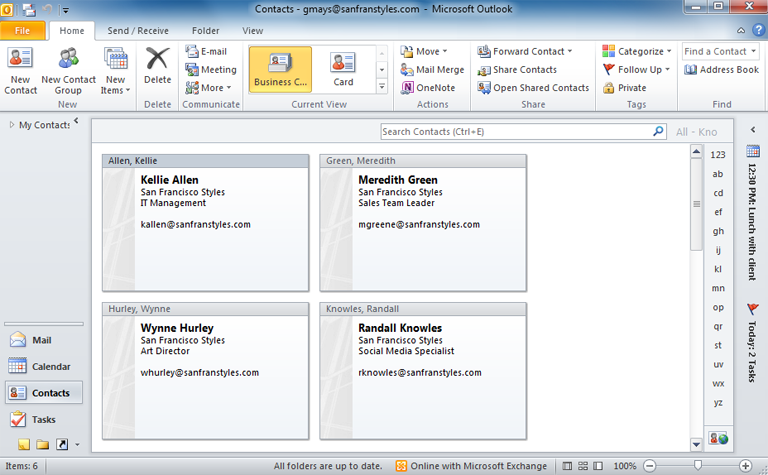 Edit Contacts
Double-click a contact to edit the contact's information. The Contact dialog box will appear. Edit the information as desired.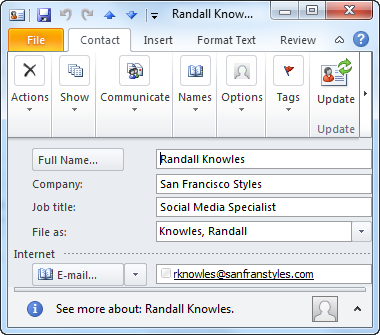 Index Bar
If you have a lot of contacts, you can jump directly to a specific point in your contacts list using the Index bar.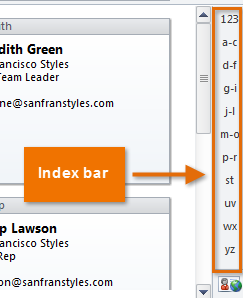 Address Book
Open the Address Book to see a full list of your contacts. You can also navigate between other address books available over your network.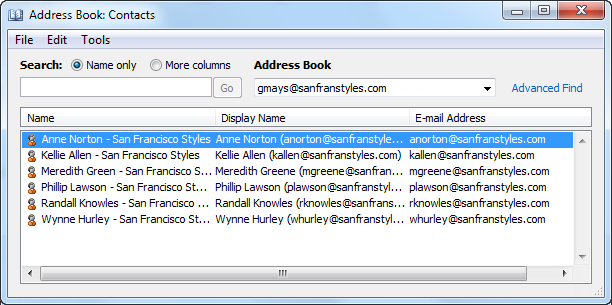 Search Bar
If you're having trouble finding a contact, you can find them quickly using the Search bar.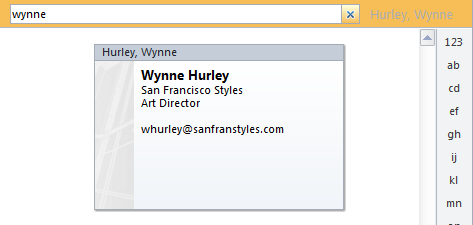 Share Group
It's easy to share contact information with someone else. For example, if a co-worker requested an email address of a new client, you could forward their contact information.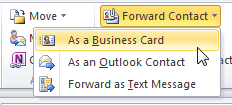 Actions Group
The commands in the Actions group allow you to access advanced options, such as Mail merge.
View Options
There are several different view options for Contacts view. By default, your contacts appear as business cards, but you can also view them in small card, phonebook, or list format.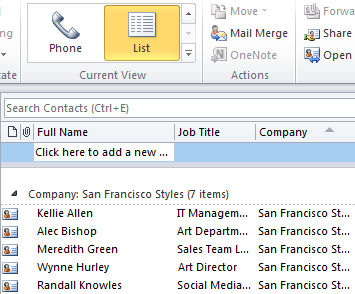 Communicate Group
Use the commands in the Communicate group to quickly compose an email or request a meeting with the selected contact.
Delete
The Delete command will delete the currently selected contact from the contacts list.
New Contact Group
If you frequently work with the same group of people, you can create a contact group for quick access.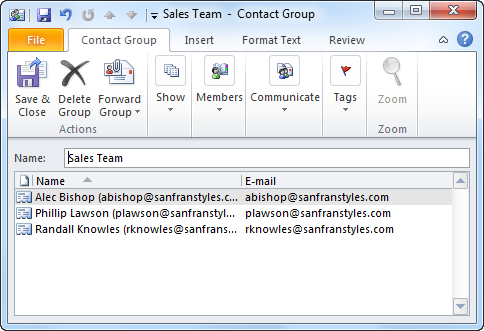 New Contact
Click the New Contact command to create a new contact. The Contact dialog box will appear. From here, you'll enter the desired contact information.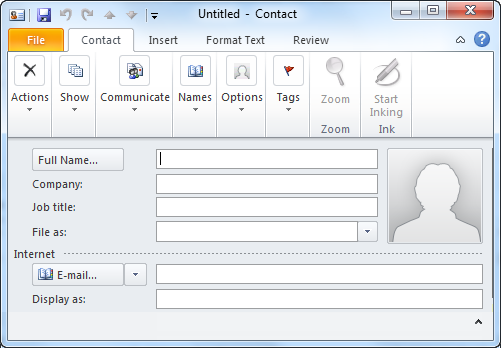 Contacts
Your contacts will appear in the View pane.