In PowerPoint 2000 animating slides is simple. Just follow the step-by-step instructions provided in this free lesson.
Animating slides
PowerPoint has a feature that allows you to add sound and movement to text, graphics, charts, and other objects in your slide presentation. For example, you could have text fly in with a laser sound effect.
To add animation:
Display the slide you want to animate in Normal view.
Choose Slide ShowCustom Animation from the menu bar.
The Custom Animation dialog box appears.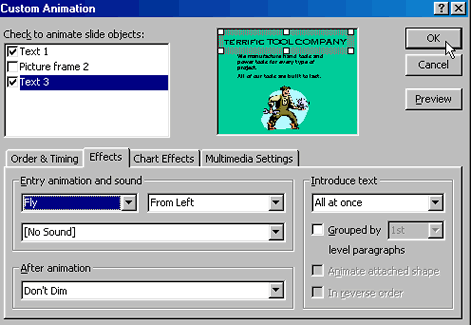 Click the Effects tab. If you're adding movement to a chart, click the Chart Effects tab.
In the Check to animate slide objects box, click inside the small box that names the object or text you want to animate. In the picture above, Text 1 and Text 3 have been checked.
In the Entry animation and sound list box and Introduce text list box, choose the options you want. In the picture above, Fly and From Left, No Sound, and All at once have been chosen.