Changing the Appearance of Slides
When working in PowerPoint 2000 changing slide appearance is simpler than you think. Just follow the instructions in this free lesson.
Changing the background
The best way to create a custom design is to begin with the background. When you change the color or design of the background, you will be limited in the color of your font.
To change the background of a slide:
Choose FormatBackground.
In the Fill Color drop-down menu, choose a color for the background.
OR
Click More Colors for a larger selection of colors.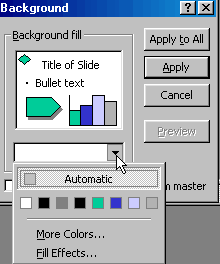 In the Background dialog box, click Apply to preview your selection. If you don't like it, you can change the color.
Choose Apply to All if you want the same color for all slides in a presentation.