Learn about the PowerPoint 2000 blank presentation option available to you when using this presentation software.
Choosing slides
The New Slide dialog box appears, showing several AutoLayouts. AutoLayouts give you several layout options for slides, including title slide, text and clip art, and bulleted list.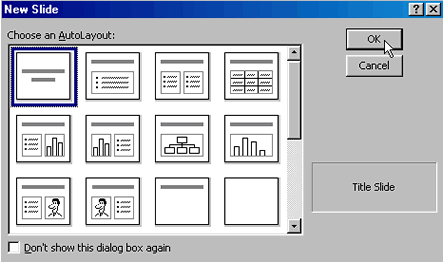 To choose an AutoLayout for the first slide of your presentation:
Choose the Title Slide layout. You can identify the slide name by the preview window in the lower-right corner of the dialog box.
Click OK.
A title slide appears.

Now you have access to the main PowerPoint window, where you can begin creating your slide presentation.