In PowerPoint 2000 design template examples are available to you. Also in PowerPoint 2000 placeholders are available. Learn how they work here.
Using design templates
Design templates in PowerPoint are slides with the background and colorful designs already formatted. Simply add the text and layout to the slide. Once you select a template, every slide in your presentation will have the same look.
To use the design template option:
Open PowerPoint.
The PowerPoint dialog box appears.
Click OK.
Choose Design Template.
Click on the template name to see a preview in the small box to the right.
Once you have chosen the design you want, click OK.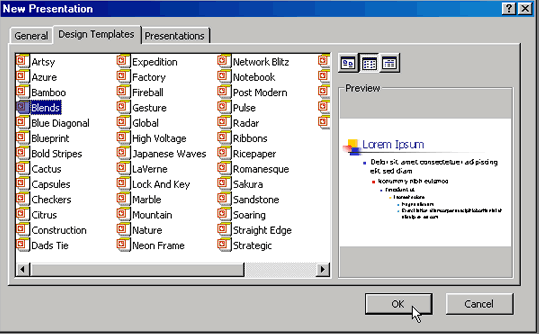 When the New Slide dialog box appears, choose an AutoLayout for your first slide.

It's a good idea to start with a design template and then create your presentation. If you have already created a blank presentation, you can easily apply a design template to that presentation. Open your presentation, choose Format

Apply Design Template, choose a design, and click Apply. All of the slides will have the same design.