Learn how to use the PowerPoint 2003 transitions feature in this free lesson.
Previewing a slide show
If you want to get an idea of what your completed show will look like to an audience, preview it. PowerPoint allows you to view your show in slide show format.
To preview a slide show:
Click ViewSlide Show (F5).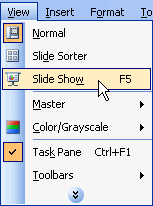 OR
Click Slide ShowView Show.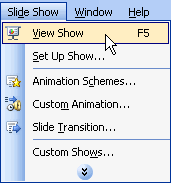 OR
Click the Slide Show button to start the presentation.
To move to the next slide, click the mouse, space bar, or Enter key.
When the screen goes dark, click the screen to return to the PowerPoint screen.
You can exit the slide show by pressing ESC on the keyboard at any time.

If you have set the slides to advance automatically, you don't need to click through the slides. Just sit back and enjoy the show. At the end of the show, left-click your mouse to return to the PowerPoint screen.