Animating Slides
In PowerPoint 2003 animating slides is simple. Just follow the step-by-step instructions provided in this free lesson.
Animating a bulleted list
A bulleted list may be another area you might want to animate.
To add animation to a bulleted list:
Open the slide with the bulleted list you want to animate.
Click the text box that contains the text you want to animate.
Click the down-pointing arrow in the Task PaneCustom Animation.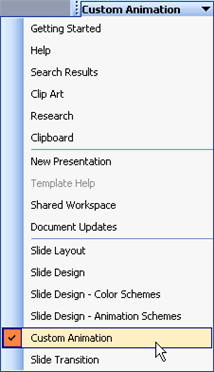 The Add Effect button is now active.