Applying a Design Template
Learn how to apply a PowerPoint 2003 design template in this free lesson.
A closer view of design templates
If you want a closer look at the design templates, follow these steps:
With a presentation open, click on a template.
Click the down-pointing arrow in the gray bar to the left.
Choose Show Large Previews. (It should now be checked).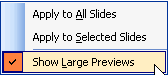 To return to the smaller views of the slides, click in the gray bar of any template and uncheck Show Large Previews.