Inserting, Copying, and Deleting Slides
Learn how to insert, copy, and delete PowerPoint 2003 slides in this free lesson.
Opening a presentation
You can quickly open a presentation you've previously saved by using the task pane.
To open a presentation
Start PowerPoint.
In the task pane, click From existing presentation and select the presentation you want to open.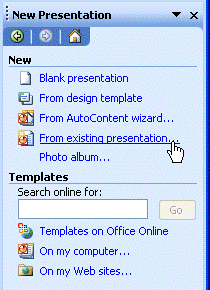 OR
Choose FileOpen.
Navigate to the file you want to open.