Learn more about the PowerPoint 2003 window so you can comfortably use this presentation software.
drop-down menus
PowerPoint 2003's menu bar initially displays commands you use most frequently. To view infrequently used commands from a menu, use drop-down menus.
To view commands in a drop-down menu:
Click a menu in the menu bar, such as File, Edit, View, or Insert.
Move your mouse pointer over the double arrows at the bottom of the drop-down menu.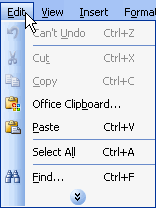 Notice that some menus have black arrows to the right. These are called cascading menus. Slide your mouse pointer over the arrow to view more options.