Inserting hyperlinks
To insert a hyperlink to an existing file:
Select the text or object you want to use as a hyperlink. In this example, we will use text.

Select the Insert tab.
Click the Hyperlink command in the Links group. The Insert Hyperlink dialog box will appear.
If you use text for the hyperlink, the Text to display field will appear active in the dialog box. The text you select on the slide will appear in this field.
Click Existing File or Web Page.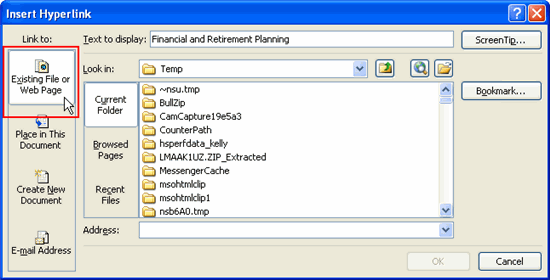 Locate the Look in drop-down menu in the center of the dialog box.
Use the drop-down menu to locate the PowerPoint file on your computer.
Select the file. The file name will appear in the Address field.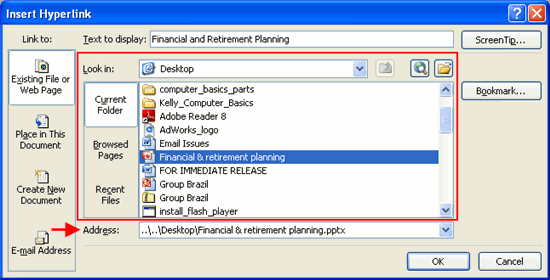 Click the Bookmark button, and a dialog box appears.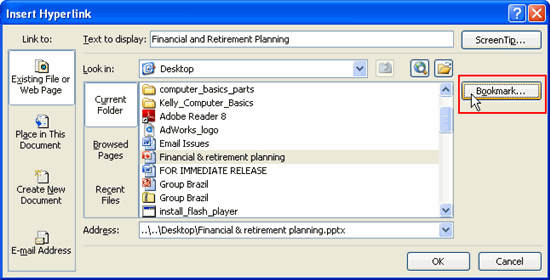 Select a slide in the presentation you want to link to using a hyperlink.
Click OK.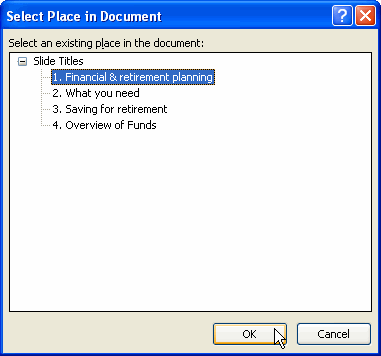 Decide whether you want to add a ScreenTip.
To insert a ScreenTip:

Click ScreenTip. The Set Hyperlink ScreenTip dialog box will appear.
Enter the tip text.
Click OK in the Set Hyperlink ScreenTip dialog box.

Click OK to close the Insert Hyperlink dialog box.
View the slide in Slide Show view, and click the hyperlink to see the bookmarked slide.
You can also create a new document from the Insert Hyperlink dialog box. Click the Create New Document command to explore this option.