Inserting action buttons
Another tool you can use to connect to a webpage, file, email address, or slide is called an action button, or action link. Action buttons are built-in button shapes you can add to a presentation and use as hyperlinks. When someone clicks or moves over the button, the action can occur.
Hyperlinks and action buttons are closely connected and can do many of the same things. Action buttons are used most for self-running presentations, such as those at a trade show booth or kiosk.
To insert an action button on all slides:
Select the View tab.
Click the Slide Master command in the Presentation Views group. The Slide Master view will appear.
Select slide 1, the slide master. Changes to this slide will appear on all slides in the presentation.
Select the Insert tab.
Click the Shapes command in the Illustrations group.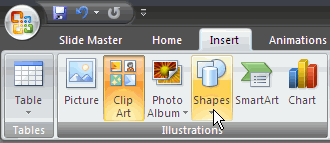 Select an action button from the bottom of the list. In this example, we will select the Home action button.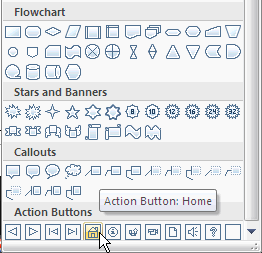 Insert the shape onto the slide. The Actions Setting dialog box will appear.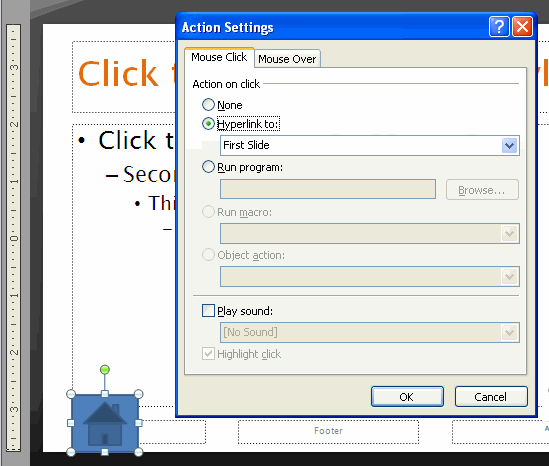 Select the Mouse Click or Mouse Over tab. Use the Mouse Click tab to set actions to occur when you click, and use the Mouse Over tab to set actions to occur when you move the cursor over the action button. In this example, we will leave the Mouse Click tab selected.
In the Action on click section, click None or Hyperlink to.

If you click None, the shape will have no action associated with it.
If you click Hyperlink to:, select an option from the menu. The hyperlink options work the same for action buttons as they do for traditional hyperlinks.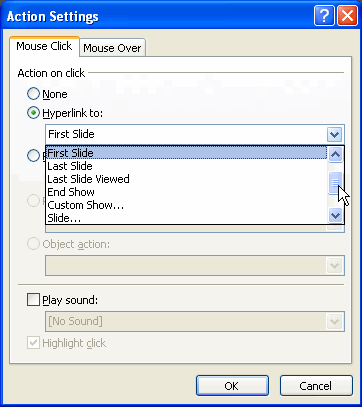 Click Play Sound if you want to play a sound when the action button is clicked.

Select a sound from the drop-down menu.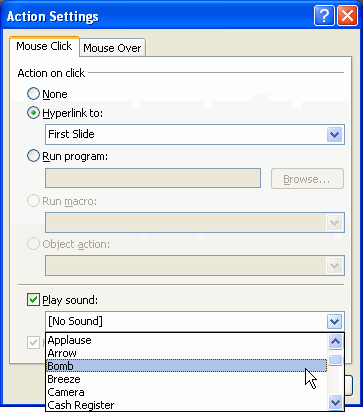 Action buttons do not have to be inserted on master slides. You can insert an action button on only one slide if you want.
To edit the action button:
Select the action button.
Select the Insert tab.
Click the Action command in the Links group. The Actions Settings dialog box will appear.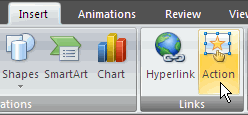 Edit the action or hyperlink.
Click OK.
When the action button is selected, the Format tab is available because it is a shape. You can change the shape style or color so it matches the color scheme of the slide from this tab.