Inserting movie clips
To insert a movie from the clip organizer:
Select the slide where you want to insert a movie clip.
Select the Insert tab.
Click the Movie command in the Media Clips group.

Select Movie from Clip Organizer from the menu. The Clip Art task pane will appear on the right.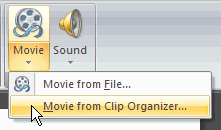 Enter keywords in the search field.
Click Go. Movie clips that meet the keyword search will appear in the task pane.
Click a clip to insert it. The clip will appear on the slide.
Movies in the clip organizer are similar to animated picture files. You can select Office Online at the bottom of the Clip Art task pane to view additional movie clips.
To delete a media clip:
Select the movie from your computer or the clip organizer.
Click the Delete key.