Sounds on CD
To play tracks from a CD:
Select the Insert tab.
Click the drop-down arrow on the Sound command.
Select Play CD Audio Track from the menu. The Insert CD Audio dialog box will appear.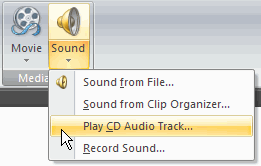 Enter the Start at track: and End at track: information in the Clip selection section.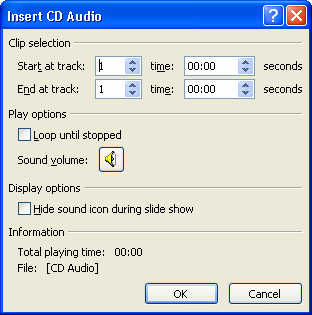 Choose whether you want to Loop the tracks until stopped and adjust the volume in the Play Options section.
Choose to display or hide the sound icon during the slide show in the Display Options section.
Click OK. A CD sound icon and a dialog box will appear.
Select Automatically or When Clicked.
To add sound from a CD, you must have a music CD inserted into your computer's CD-ROM drive.
The CD Audio Tools Options tab
Once you have inserted tracks from a CD, a CD Audio Tools Options tab appears. Many of the commands are similar to the commands available when you insert other sounds; however, some of the options are different.

Functions in the Play and Setup groups include:
Preview: Listen to the sound that will play
Slide Show Volume: Change the volume to low, medium, high, or mute
Edit the Track and Time fields: Change the tracks that play and the time in the track that playback starts or stops
Change How to Play Track: Click the drop-down menu next to Play Track to change whether the CD tracks play automatically or when clicked
Hide During Show: Hide or display the sound icon during the slide show
Loop Until Stopped: Have sound play until you stop it by clicking or advancing to the next slide