The PowerPoint environment
Watch the video! (5:46min)
Exploring the PowerPoint window
When you open PowerPoint, a new presentation is created, and a blank slide appears in the PowerPoint window. The slide has placeholders for you to add a title and subtitle.
The tabbed Ribbon menu system is how you access the various PowerPoint commands. If you've used previous versions of PowerPoint, the Ribbon system replaces the traditional menus. Above the Ribbon in the upper-left corner is the Microsoft Office button. From here, you can access important options such as New, Save, Save As, and Print. By default, the Quick Access toolbar is pinned next to the Microsoft Office button and includes commands like Undo and Redo.

On the left side of the window, you will see a task pane with slides and outline tabs, which appears by default. On the bottom-right of the screen, you'll find view commands (Normal, Slide Sorter, and Slide Show), as well as the zoom tool.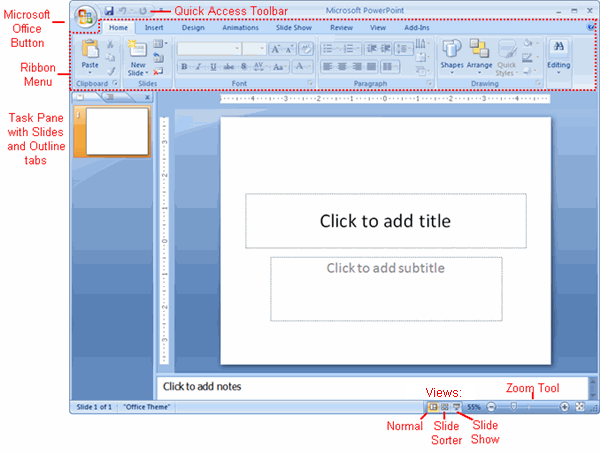 To zoom in and out:
Locate the zoom bar in the bottom-right corner.
Click the slider and drag it to the right to zoom in and to the left to zoom out.

To change views:
Locate the View options in the bottom-right corner. The view options are Normal, Slide Sorter, and Slide Show.
Click an option to select it.

The default is Normal view.