Inserting SmartArt graphics
Watch the video! (Part 1) (7:49min) (Part 2) (5:30min)
Download the example to work along with the video.
To insert a SmartArt graphic:
Select the slide where you want to insert the SmartArt graphic.
Select the Insert tab.
Select the SmartArt command in the Illustrations group. A dialog box appears.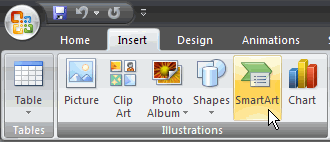 Select a category on the left of the dialog box, and review the SmartArt graphics that appear in the center.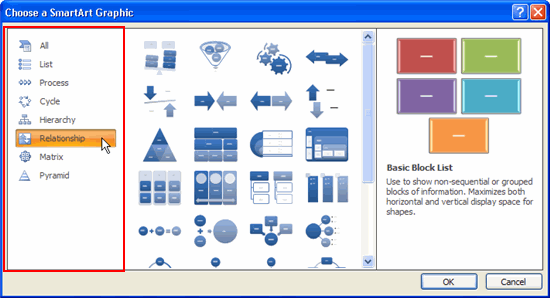 Click a graphic to select it. A larger version of the graphic, along with text details, will appear on the right side of the dialog box.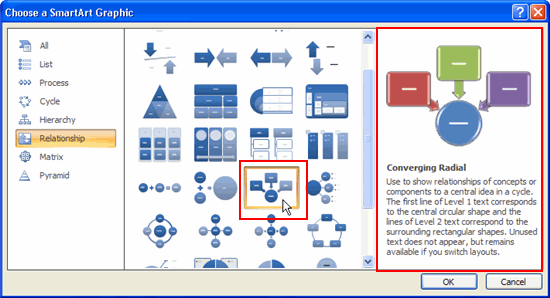 Click OK. The graphic will appear on the slide, and two new SmartArt Tools tabs—Design and Format—will appear on the Ribbon.

You can also insert a SmartArt graphic by clicking the Insert SmartArt command in the placeholder, if the slide layout includes a content placeholder.
Think about the amount of text you will need for the graphic. Some layouts have more room for text than others.
To add text to a graphic:
Select the graphic. A shape is selected by default.
Enter the text you want to appear in the selected shape. When you begin typing, the solid line that surrounds the shape will become a dotted line, which indicates that the text box is active.

The text will automatically replace the placeholder text.
The text automatically resizes to fit the shape.

Repeat until all necessary text is entered into the existing shapes.