Making changes to specific layouts
In addition to changing design elements on all slides, you can change design elements on slides that use a specific layout. For example, you can apply different formatting to the Title and Content or Section Header layouts. By customizing specific slide layouts, you have more control over the slides and the presentation as a whole.
To change font color/formatting on slides with a specific layout:
Select the View tab.
Click the Slide Master view command in the Presentation Views group. The Slide Master tab will appear active.

Select the supporting layout you want to change. In this example, we'll select the Section Header Layout in the task pane on the left.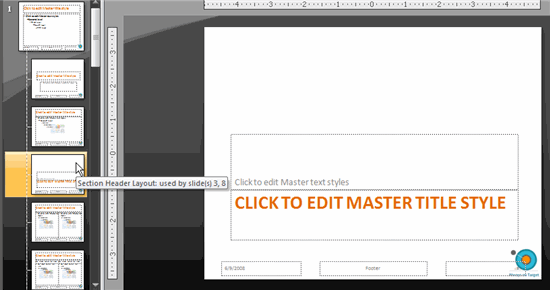 Select the text you want to modify on the slide. Now you can format it how you want. In this example, we'll change the font color and add a text shadow.
Select the Home tab.
Click the Font Color command in the Font group.
Hover over each option to display a live preview on the master slide.
Select a font color from the menu options.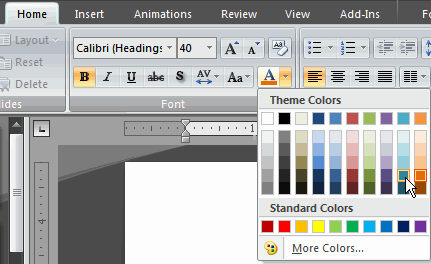 Click the Text Shadow command to add a shadow to the selected text.

Click Normal view to close the slide master view and see the section header slides that have been formatted.