Themes in PowerPoint can help create consistency. Learn how to use PowerPoint themes for a more professional look as well.
Themes
A theme is a set of colors, fonts, effects, and more that can be applied to your entire presentation to give it a consistent, professional look. You've already been using a theme, even if you didn't know it: the default Office theme, which consists of a white background, the Calibri font, and primarily black text. Themes can be applied or changed at any time.
Optional: You can download this example for extra practice.
Theme elements
Every PowerPoint theme—including the default Office theme—has its own theme elements. These elements are:
Theme Colors (available from every Color menu)

Theme Colors

Theme Fonts (available from the Font menu)

Theme Fonts

Shape Styles (available in the Format tab when you click a shape)

Shape Styles
Why use theme elements?
If you're using theme elements, you'll probably find that your presentation looks pretty good. All of the colors will work well together, which means you won't have to spend as much time formatting your presentation. But there's another great reason to use theme elements: When you switch to a different theme, all of these elements will update to reflect the new theme. You can drastically change the look of your presentation in just a few clicks.
Austin Theme and Angles Theme titles slides
Remember, the colors and fonts will only update if you're using theme fonts or theme colors. If you choose one of the standard colors or any of the fonts that are not theme fonts, your text will not change when you change the theme. This can be useful if you're creating a logo or title that always needs to look the same, like in the sample below.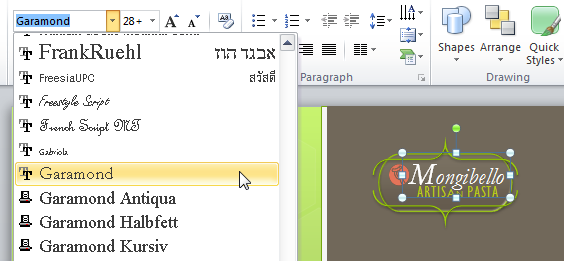 Selecting a non-theme font
Themes and slide layouts
As you can see from the two different title slides above, themes also affect the various slide layouts.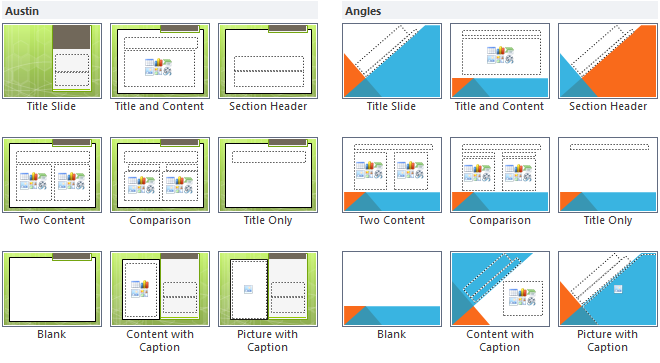 Austin Theme and Angles Theme slide layouts
If you apply a theme before you start building your presentation, you will be able to arrange your content to fit the layouts you have to choose from. If you apply the theme after, the text boxes and placeholders may move depending on the theme you choose.