Use the PowerPoint spell check and PowerPoint grammar check features to ensure your PowerPoint presentation is free of errors.
Modifying proofing options
With customizable proofing options, PowerPoint gives you the ability to change the way it addresses spelling errors, including automatic spell check and contextual spelling. Contextual spelling—an option that is turned off by default but that can be turned on—can help you find and correct spelling mistakes like the use of too vs. two or there vs. their.
To modify proofing options:
From Backstage view, click Options.

Opening PowerPoint Options

Select Proofing. The PowerPoint Options dialog box gives you several options to choose from:





Check spelling as you type: Uncheck this box if you don't want PowerPoint to check for spelling errors automatically. (This automatically checks Hide spelling errors.)
Use contextual spelling: Check this box if you want PowerPoint to check for contextual spelling mistakes, like the use of your vs. you're.
Hide spelling errors: Check this box if you want to hide the red wavy lines that mark spelling errors. (This option is disabled if Check spelling as you type is unchecked.)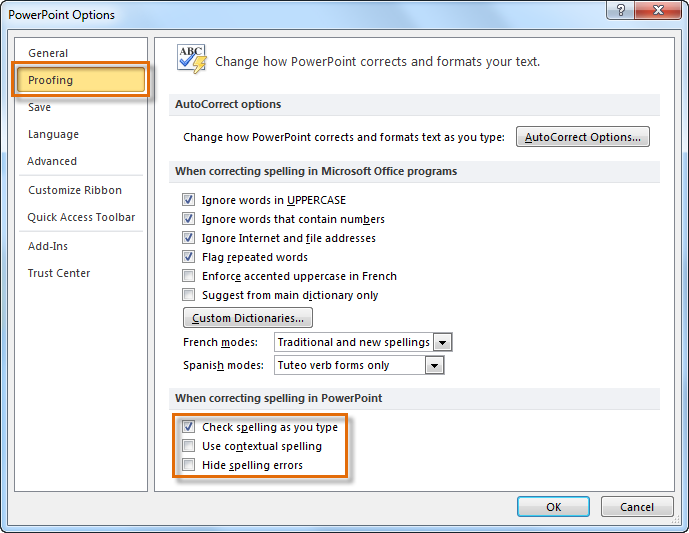 Modifying proofing options
If you've turned off the automatic spell check, you can still run a check by going to the Review tab and clicking the Spelling command.
Modifying any settings in PowerPoint Options—including Proofing—affects all of PowerPoint, not just your current presentation.